In the last week, the mass mailing of emails is gaining momentum, in which someone calling himself Jeanson Ancheta demands to pay him a certain amount of money. These letters are not unique, we recently wrote about this type of spam (here), the main purpose of which is to inform the message recipient that hackers have information (video, photos) that compromises him. If within a certain amount of time the victim does not pay the ransom, then all this information will be sent to the friends, colleagues and relatives of the recipient of the letter. There is a lot of such scam, almost every day a new one appears. Basically, they differ in the amount of the ransom and the text of the letter. In any case, we advise you not to believe such messages, since all the information in them is a hoax.
In this letter, Jeanson James Ancheta reports that he is a very famous hacker who was able to crack the user's email account. Confirmation of this is that the letter was sent from the user's email address. Jeanson Ancheta is a real person, a hacker who went to jail for breaking into thousands of computers and creating a huge botnet. Nevertheless, this statement that this hacker sent this letter is very similar to a fraud. Fraudsters often pretend to be different hackers or groups of hackers in order to scare the message recipient as much as possible.
The letter says that the hacker was able to infect all devices that were used to view mail whose account was hacked. Then he was able to turn on the camera, which is connected to the hacked device and record video, at the moment when the victim was browsing dirty sites, meaning adult sites (or sites with porn content). It is also reported that all contacts and addresses stored on the hacked device were stolen. After which the scammers go to the main thing, they give the victim 36 hours to pay a ransom of $ 650, transferring it to a bitcoin wallet. If, during this time, the attackers do not receive a ransom, then they threaten to send all the information they have to all friends, colleagues and relatives of the victim.
An example of the text that is given in the letter:
This is Jeanson Ancheta. Also known as Anc-h-EtA on the dark web. I spent my entire life working on digital security app developments, besides I am really a very good hacker/data leecher – if not the best.

I think around 9 months ago, I hacked this email address. You can check it. I am sending this email from your email address now.

I injected my code to all the devices which you had opened your mailbox on. And I started to monitor the activity on your devices. My first idea was to block and encrypt your files. Than I would ask for a small fee to release them back. But than one day, You visited some dirty websites. You know what I mean naughty thing. And I silently activated your front camera and recorded You. Yes! You were playing with yourself. What a funny video.

Now, I stole contact list of yourself. I have all your friends lists. A lot of information was downloaded to my system.

Checking your system with the antivirus systems will of course not work. I told you, I am not a rookie! What do I want? Well I am asking from you a small fee of 690 USD. This is the cost of my time, and I had spent quite a lot of time on you. If you don't pay my fee, all the naughty screen videos will be delivered to your friends and family.

Send the amount to my bitcoin address: 1LisQiLaiwa1HZutVFKWhPqfKVUK96Yej8

I will give you 40 hours to complete the transfer. When you open that message, I will know it and the countdown starts.
To avoid blocking spam emails with filters, the emails sent are slightly different from each other. The amount of the ransom and the bitcoin wallet also change. Of course, we want to repeat once again that all that is said in the letter is a hoax. Such messages should be ignored, marked as spam, and then safely deleted.
Threat Summary
What to do when receiving Jeanson James Ancheta email scam
If you have received the email letter from Jeanson Ancheta, then do not trust any of what is said in it. You can safely ignore it and the threats that are written in it. In addition, we recommend that you follow these tips:
Do not pay the ransom
If the password provided in the letter is still used by you, then you must urgently change it
If there is a link in the text of the letter or a file is attached to the letter, do not open this file
Mark this email as SPAM, then delete it
If you suspect that the computer is infected with a trojan or other malware, then check the computer by performing a full scan
Start using a program that blocks spam, phishing, and malicious sites.
How to scan your computer for malware
It will never be superfluous to perform a full scan of your computer for viruses and malware. And if you have the slightest suspicion that the computer is infected, then you must definitely perform a full scan. You can scan your computer using an antivirus program, and even better if you check your computer with antivirus, and then use another program that is specifically designed to search for malware and spyware. One such program is Zemana Anti-malware. It will help you find malware, trojans and viruses, as well as completely remove it from free.
Download Zemana AntiMalware using the following link and save the file to your desktop.
Run the program and, following the prompts of the Installation Wizard, install it on your computer. When the installation of Zemana Anti-Malware is completed, you will see the main program window.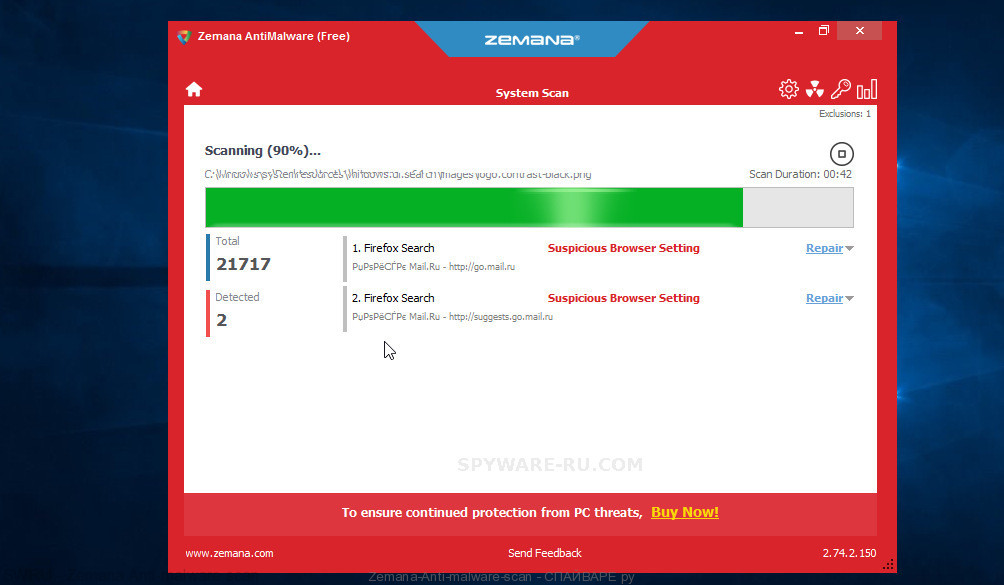 Click the "Scan" button and wait for the scan to complete. Click "Next" to remove the found malware and move it to quarantine.
Finish words
If you or your friends received an email message from the 'Jeanson James Ancheta', please tell us and our readers about it.