Did you receive an email or text containing the tracking number US9514901185421 and a link to a website saying that your package is stopped and is awaiting payment? Do you want to know if this message is fraudulent or legal? Read this article to find out why you should be wary of such messages.
Is the US9514901185421 a Scam?
This is a scam message and has not been sent by USPS. The link in the text leads to a phishing site masquerading as the USPS website. This fraudulent message claims your package is "stopped" and you have to click on a link provided to pay the costs to receive the item. Once again, IMPORTANT, this is a SCAM message sent by scammers!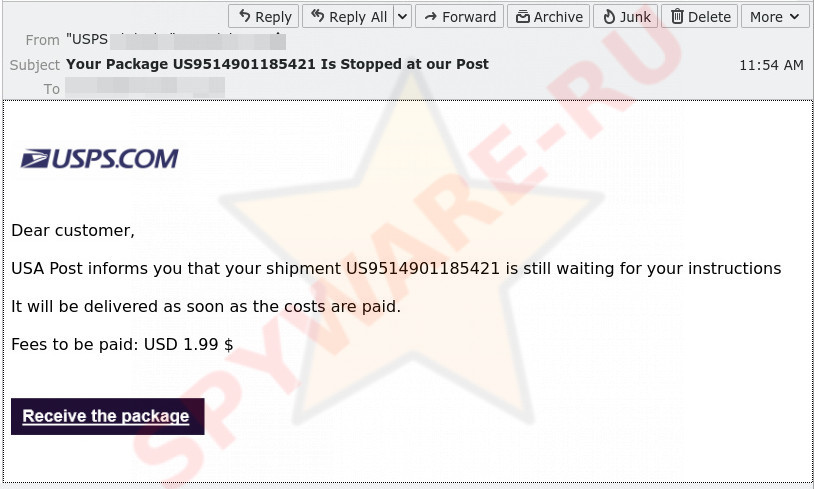 Your Package US9514901185421 Is Stopped at our Post"

Dear customer,

USA Post informs you that your shipment US9514901185421 is still waiting for your instructions

It will be delivered as soon as the costs are paid.

Fees to be paid: USD 1.99 $
How the US9514901185421 scam works
The goal of scammers is to trick recipients into clicking on a malicious link in a message. This link leads to a phishing site that is designed to look legitimate from USPS, but is in fact a sophisticated phishing site that is designed to steal victims credentials, personal and financial information. Scam links often contain viruses, malware that is harmful to devices, can lead to hacking and damage to the device.
US9514901185421 is a fake tracking number: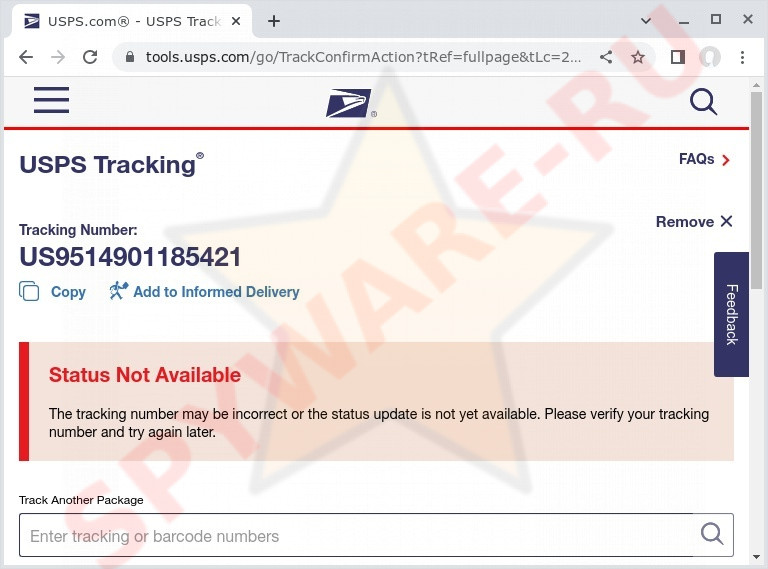 What to do when you receive the US9514901185421 text Scam?
The first thing to do upon receiving this text message is to block the sender, as the sender is a scammer. Second, don't click the link, just ignore it, the link leads to a fake USPS site. Third, delete the email. Fourth, let your friends, family and co-workers know about the US9514901185421 scam so that they don't fall victim to such scams in the future. Remember, forewarned is forearmed!
VirusTotal flagged a fake USPS site as malicious: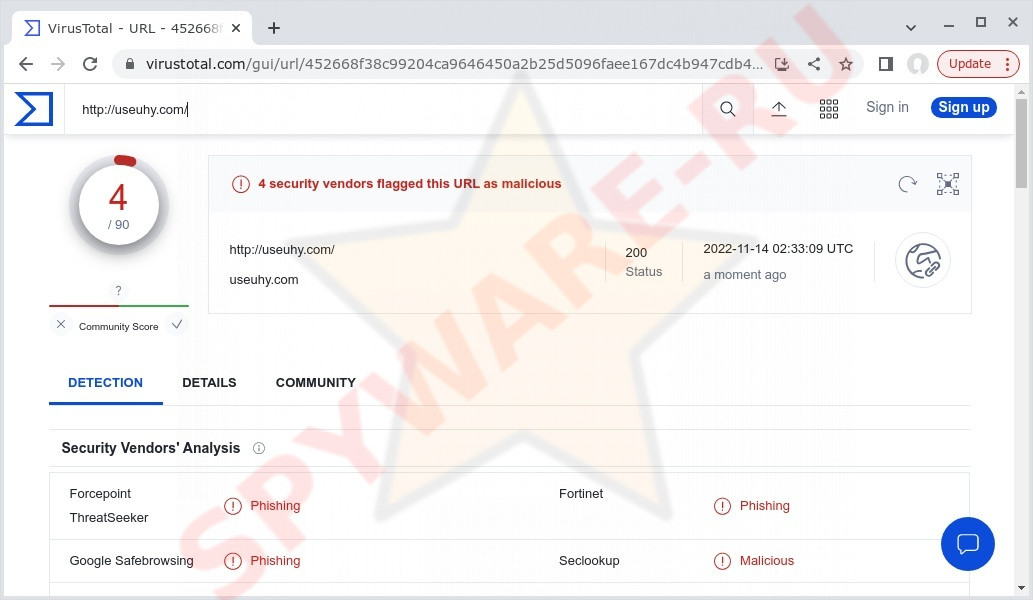 Examples of the US9514901185421 Scam
We have already given an example of a scam message above. Scammers constantly change the text, but its format remains the same. Knowing the format, you can always find out the fraudulent message in the future. Some examples below:
USPS.COM Your package number US9514901185421 from CN is in transit. This package is declared at customs, we invite you to pay the $ 1.00 of duties and taxes by connecting via the link below as soon as possible. Once your payment is complete, you will receive a payment confirmation and your package will be delivered to you as soon as possible. Finally, be aware that you can follow the progress o f your package or have information about our products and services on our site.
Dear Customer, Please be informed your package is waiting for delivery Item on hold Tracking Number: 9470101699320015677517 Confirm payment $1.99 to complete delivery using the link below. COMPLETE DELIVERY: "Phishing link" Note: Verification process.
We have difficulty in delivering your package, in order to continue the delivery of your package, we need additional address information. you can add your address information by following the instructions on the following link : "Phishing link".
USPS. You have a package thats need to be delivered, but it has been suspended due to and incorrect delivery address. "Phishing link" Regards, USPS.
Here are simple tips for identifying and preventing US9514901185421 phishing scams.
Know what a US9514901185421 scam looks like. A few examples are given above.
Double-check the sender's email address.
NEVER use links or buttons from unknown sources!
Go directly to the USPS website yourself and enter the tracking number.
Don't give your personal information to an unsecured site.
Use an anti-phishing plugin for detecting scams, phishing attacks, malware, and dangerous links.