Did you receive a text message containing the tracking number us9514961195221 and a link to a website saying that USPS was unable to deliver your package because your shipping address was incorrect? Do you want to know if this text is fraudulent or legal? Read this article to find out why you should be wary of such text.
Is the US9514961195221 Text a Scam?
This is a scam text message sent by scammers. The link in the text leads to a phishing site masquerading as the USPS site. This fraudulent message claims that USPS was unable to deliver your package because your delivery address was incorrect. Once again, IMPORTANT, this is a SCAM text sent by scammers!

[FREE MSG] USPS Delivery of your item will be suspended until the address change is confirmed. Tracking Number: US9514961195221. Please check :
How the US9514961195221 scam works
The goal of scammers is to trick recipients into clicking on a malicious link in a message. This link leads to a phishing site that is designed to look legitimate from USPS, but is in fact a sophisticated phishing site that is designed to steal victims credentials, personal and financial information. Scam links often contain viruses, malware that is harmful to devices, can lead to hacking and damage to the device.
A fake USPS website: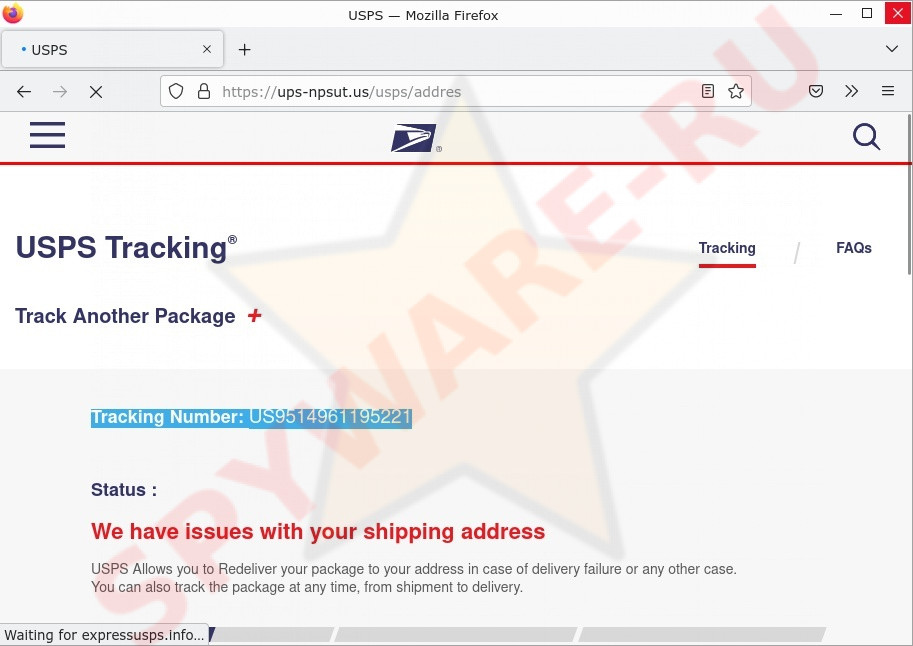 What to do when you receive the us9514961195221 text Scam?
The first thing to do upon receiving this text message is to block the sender, as the sender is a scammer. Second, don't click the link, just ignore it, the link leads to a fake USPS site. Third, delete the text. Fourth, let your friends, family and co-workers know about the us9514961195221 scam so that they don't fall victim to such scams in the future. Remember, forewarned is forearmed!
VirusTotal flagged a fake USPS site as malicious:
Examples of the us9514961195221 Scam
We have already given an example of a scam text message above. Scammers constantly change the text, but its format remains the same. Knowing the format, you can always find out the fraudulent message in the future. The us9514961195221 Scam Text format: "Sender" – "Status" "Phishing site URL". Some examples below:
Your shipping order is on hold due to an incomplete street address in the shipping information. Check, please. usprecitmtg.info
Your package was not released for delivery due to an incorrect street address, please submit the correct address in order to delivery. https://ups-npsut.us
[US-PS] Your courier could not be delivered due to incorrect street information. Fill in the correct address for re-delivery:https://useuhy.com
USPS: Your package cannot be delivered due to an incorrect address. Please update the correct address after checking. usprestadd.com
[Express notification]: We are unable to deliver your package to your door due to the incorrect house number provided, please update: https://www.us-yuke.us
Postal Service: Your package cannot be delivered to you at this time due to a missing zip code. Please check for updates. usprstsite.info
U.S.P.S – The staff can no longer deliver for you because your package information is incomplete. Please update in time. uspalmeans.info